Location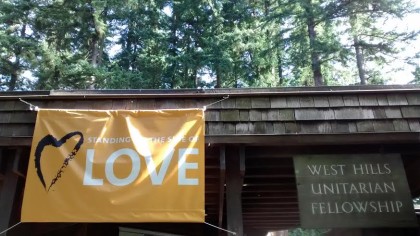 You'll find us tucked into a lovely little forest of green at 8470 SW Oleson Road in Portland, Oregon 97223 (near Washington Square Mall). Learn about the accessibility of our building.
Office Hours
The congregation's office is open from 9:30 am to 5:30 pm on Sundays, Mondays, Tuesdays, and Thursdays. Contact our office at admin@whuuf.org or 503-246-3351.
Entrances
The entrance to the sanctuary is on the same level as the parking lot, and is found in the main building. During the week, visitors can come to the office, which is located under the covered walkway to the right of the Sanctuary, the first door on the right.
Parking
Our parking lot has space for 120 cars, with handicapped spaces closest to the building. When our lot is full, the Scandinavian Heritage Foundation welcomes us to use their lot, located at 8800 SW Oleson Rd.
Directions
Our Google Maps link offers you door-to-door directions for driving, walking, biking, or public transit.
Contact us
Additional questions? Please feel free to contact us.